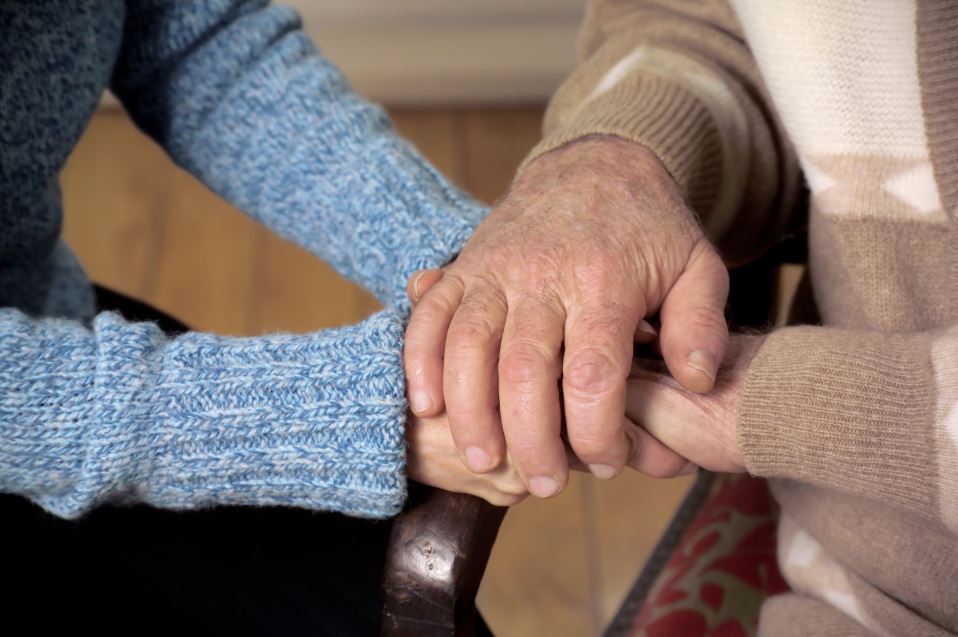 This story was submitted by Theresa Prosser, MSN, RN, a nurse at Advocate BroMenn Medical Center in Normal, Ill. She is the clinical nurse manager for the hospital's Medical/Oncology Specialty Care Unit, as well as the Pediatrics and Infusion units. 
In the clinical areas of a hospital, we often have the opportunity to witness life-altering events firsthand. Recently, a husband and wife were both admitted to the nursing unit I manage at
Advocate BroMenn Medical Center
in Normal, Ill. The couple had been getting by in an assisted living setting -- the husband pretty much caring for the wife, who had
dementia
. She had
fallen
at home, fracturing her sacrum. Her health and condition made her not a surgical candidate, so she was admitted. The following day, the husband fell at home,
fracturing his hip
. He, too, was not a candidate for any additional intervention, and was admitted as well. Over the course of several days, through partnership with the family,
hospice
, social work/care management, nursing,
palliative care
, chaplaincy and the physicians, the decision was made to transition the couple to inpatient hospice, to provide comfort-based care here in our facility until they both passed. Staff advocated for the couple to be placed in the same room -- something that is not typical practice. We made it happen, though, with the blessing of our infection control nurse, due to the fact only one of them was on isolation precautions. As they were wheeled into the room, the staff put the beds close enough together so that they could reach out and hold hands, something the couple did immediately. Both of the patients and the family were grateful to have them together again, as they were married for nearly 70 years and were referred to as "true
soul mates
." Over the course of two days, both of their conditions deteriorated, and the unit charge nurse came to me and said, "Take a look into that room if you need a reason to validate why we do what we do." Both the husband and wife were now not responding, but breathing in complete sequence with each other. Peacefully. What a testament to love and the human spirit! They both passed on the same day -- the husband just several hours before the wife. As a nurse, I feel that being able to provide a patient and their family/loved ones with a comfortable,
peaceful transition
is an honor. I also believe that as
caregivers
, we get just as much out of our patients as we give to them. Witnessing this event recharged my batteries and makes me thankful for everyone who works within our walls. Hopefully, it will do the same for you, as it is not about associates who work on a specific unit, but about everyone working together.