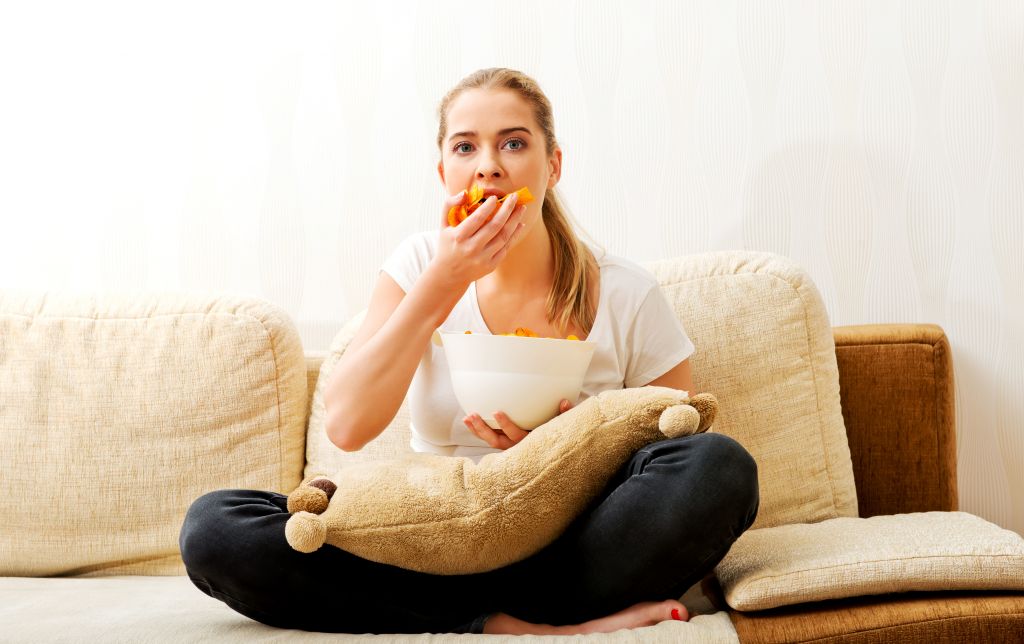 Mindless eating, such as grabbing a handful of chips, eating a few cookies or ordering a hamburger through the drive-thru, can be detrimental to a person's health. The
Cornell Food and Brand Lab
 reported that Americans are eating more frequently due to the availability of fast, convenient food and advertising that creates a temptation to eat - even when they aren't hungry. In the study, a total of 45 undergraduate students rated their hunger level before they ate a carbohydrate-heavy meal. The participants' blood glucose levels were then measured at regular intervals after eating the meal in order to assess how the food impacted their health. Participants who said they were moderately hungry before eating the meal tended to have lower blood glucose after consumption than those who said they were not particularly
hungry
. High glucose is bad because it can lead to complications such as
diabetes
. "Although it's easy to grab a quick bite to eat without even thinking about if you are really hungry, this can lead to spikes in our blood glucose levels that, over time, can develop into hyperglycemia, prediabetes or diabetes," says Jaye Leopold, diabetes clinical nurse specialist at
Advocate Good Samaritan Hospital
in Downers Grove, Ill. "Don't go to the other extreme and skip meals, as this can backfire and lead to weight gain and slowed metabolism." According to the
American Diabetes Association
, 1 in 3 American adults has prediabetes. These people are five to six times more likely to get diabetes over time. Prediabetes also increases the risk for cardiovascular disease. Leopold suggests the following tips to curb mindless eating and better control blood
glucose levels
:
Check your hunger level – Ask yourself if you are really hungry or just bored, tired, stressed or thirsty. Look for physical symptoms of hunger, such as stomach growling or feeling empty.
Drink water – It's easy to confuse the signal for thirst with hunger. Drink a glass of water before reaching for something to eat. Don't like water? Spruce it up with lemon or drink a sparkling water.
Take a few minutes to refocus – If you know you aren't starving, you may just need to recenter your attention. Take a walk, lift hand weights, do some leg raises or lie down for a power nap.
Prepare healthy snacks – Keep a supply of nutritious, prepared snacks, such as baby carrots, celery sticks and raw broccoli. Having a few pieces can curb the feeling of needing to eat - plus, it increases your vegetable intake.
Find a hobby – Find something else to do while watching TV or whenever your "weak moments" occur, such as needlework and jigsaw puzzles, that keep your hands busy, rather than eating.